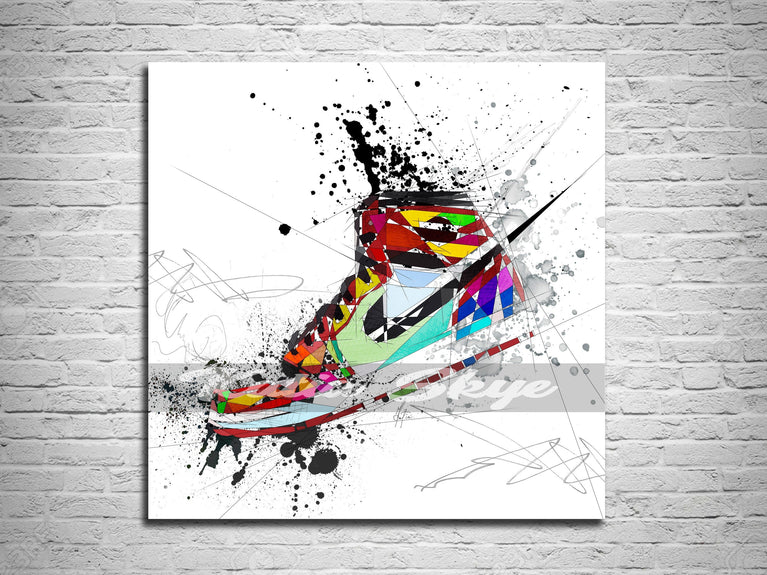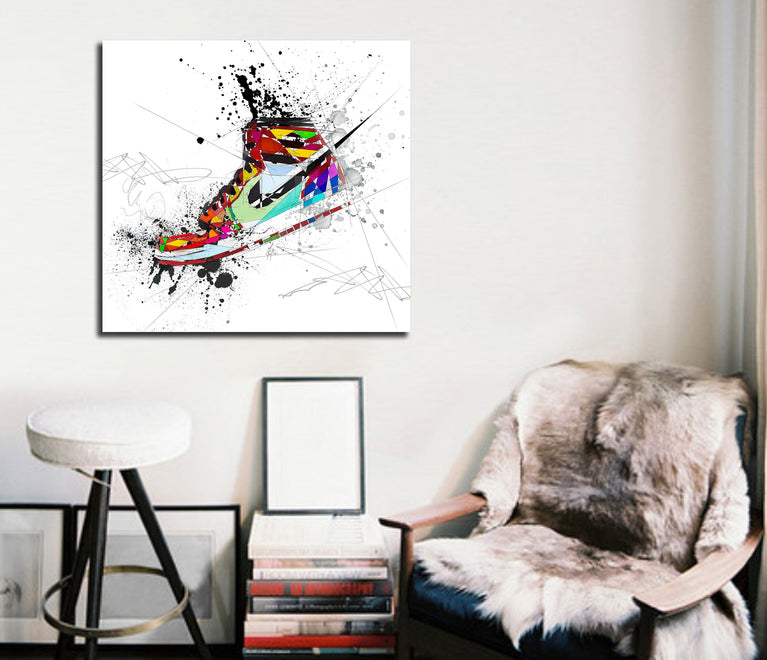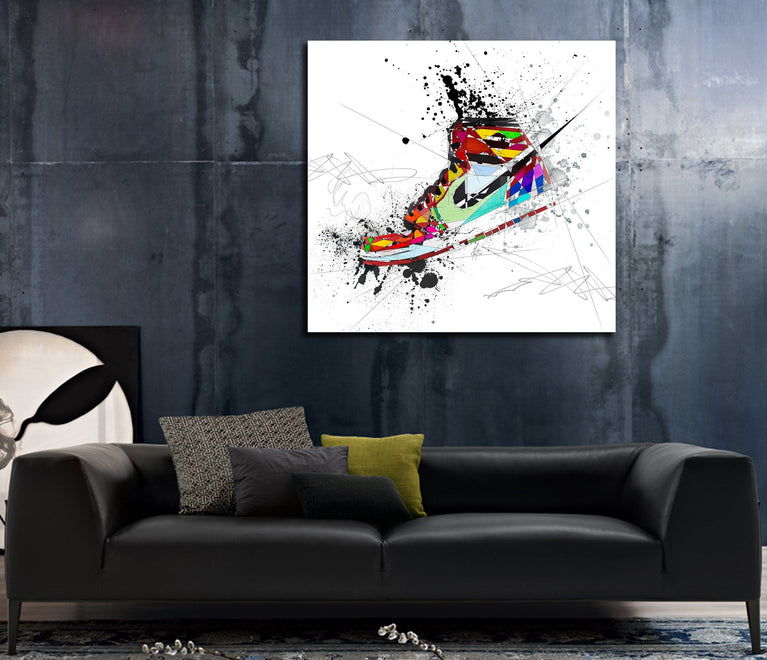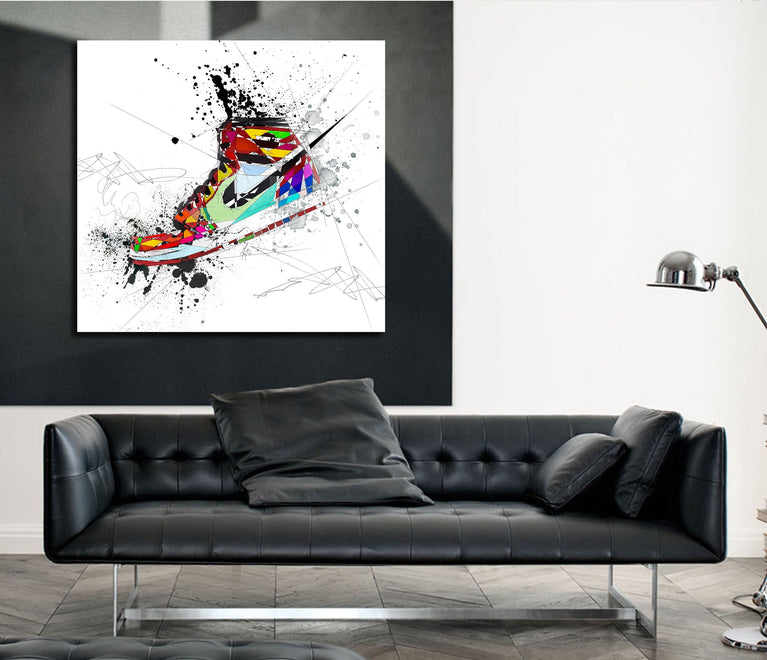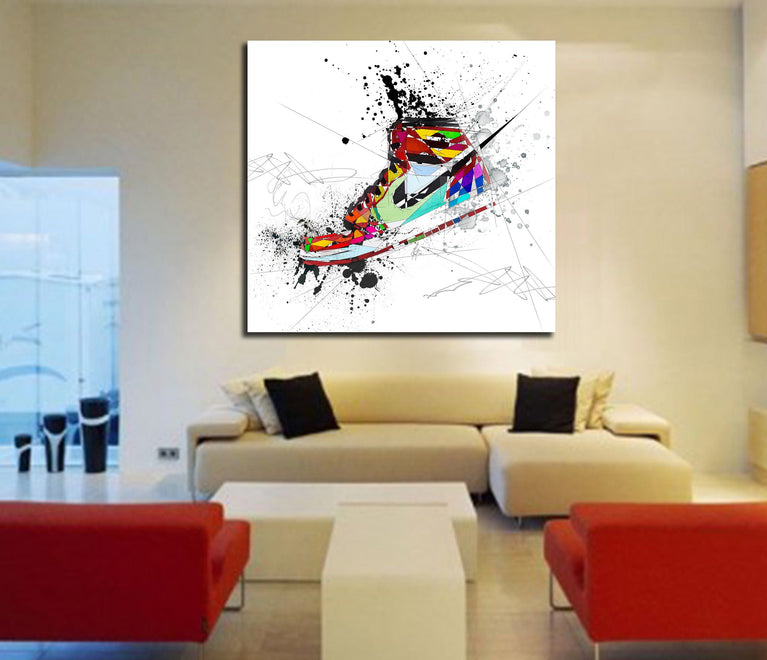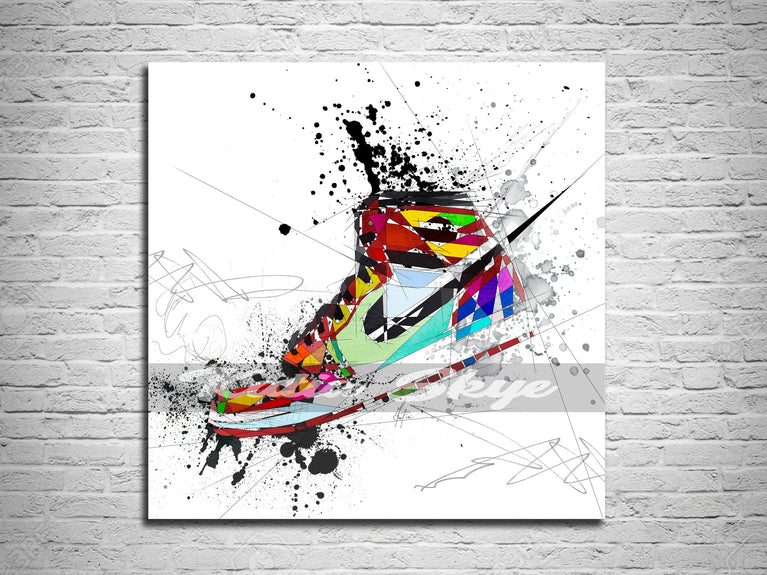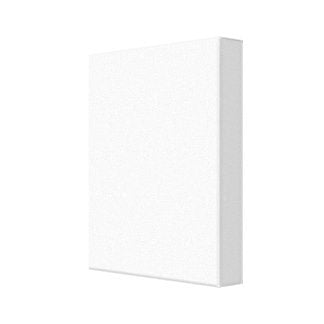 Show your love for Air Jordans with our Incredible Artwork
These specially designed sneakers are iconic and they look great with any number of outfits and history of sneaker collecting, in general, is connected to these unique designer sneakers.
The vibrant colors and the brush strokes in the canvas art are printed in a high-class print shop which assures you that an aesthetic artwork is produced for your use. We bring you a modern artwork of these all-time favorite Air Jordans to liven up any space. The best part about this Air Jordan Sneaker Wall Art is that it can blend in with any décor and space. Be it your living room, your closet, or your gym, this painting is a head-turner and gives that space new life.
Artist Name: Katia Skye
Art Variant: SNK-AJ01
Dimensions and details about our Air Jordan Sneaker Wall Art
Canvas print Air Jordan sneakers wall art from Katia Skye comes in 14 different dimensions and two different depths which are 0.75 inches and 1.5 inches. The various sizes are provided so that you can select one that is perfect for your space. Whichever dimension you select make sure you mention it at check out along with the depth.
The Nike sneaker basketball poster is suitable for decorating your home as well as any specific area of your office, gym, sports complex, or even your business center.

The Air Jordan Sneaker Wall Art starts at $40 and the rate varies depending on the customizations. Different dimensions come at different prices.

Shipping charges are calculated separately at checkout

The painting is delivered to you through a courier in a hassle-free way.

The canvas is stretched on wooden frames for your convenience. Therefore, no external frame is required.

You can gift the artwork to your loved ones on any occasion like birthdays, anniversaries, or as a gift on Christmas or New Year.
About Air Jordan Sneaker
The first air Jordan sneakers were produced for the famous basketball player Michael Jordan during his time. These shoes were designed for Nike and were released publicly on April 1st, 1985.
Air Jordan sneakers are extremely popular because they are exclusive in their design and durability, incomparable to other footwear of their type. These shoes are manufactured with extremely high-quality materials, including full-grain calfskin and premium leather uppers.
What makes us special?
Our artworks are sophisticated and of premium quality. They are open for customizations because we believe in prioritizing our customers' needs.
The flawless finish of the wall art can elevate the appearance of a room without taking too much away from it. A truly unique take on Air Jordans, this painting is both elegant and impressive.