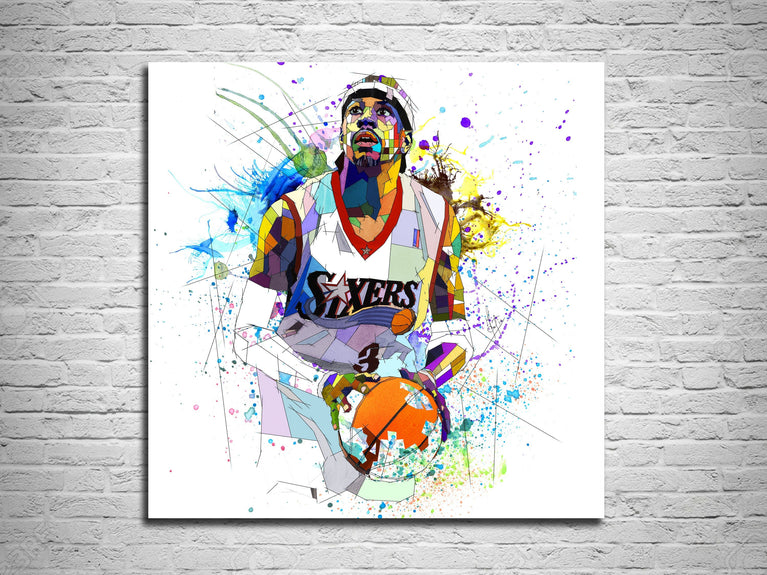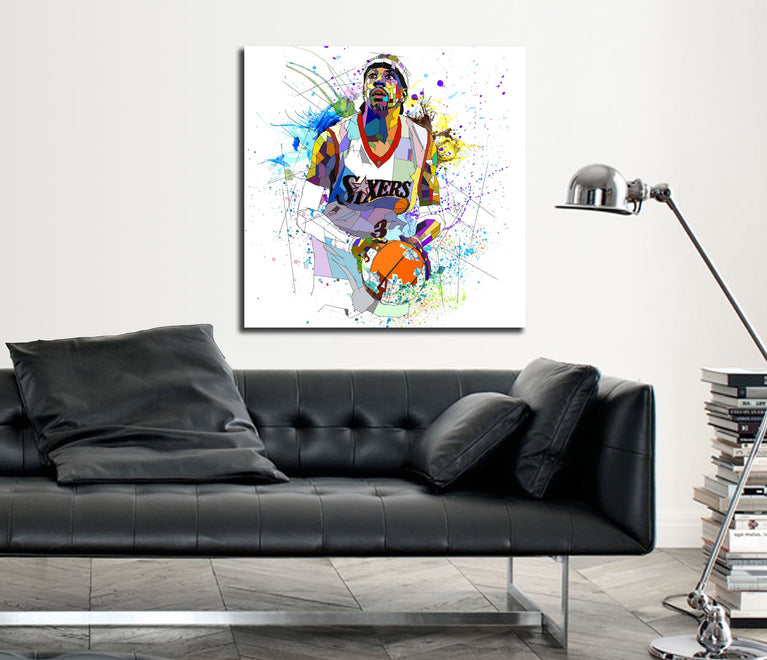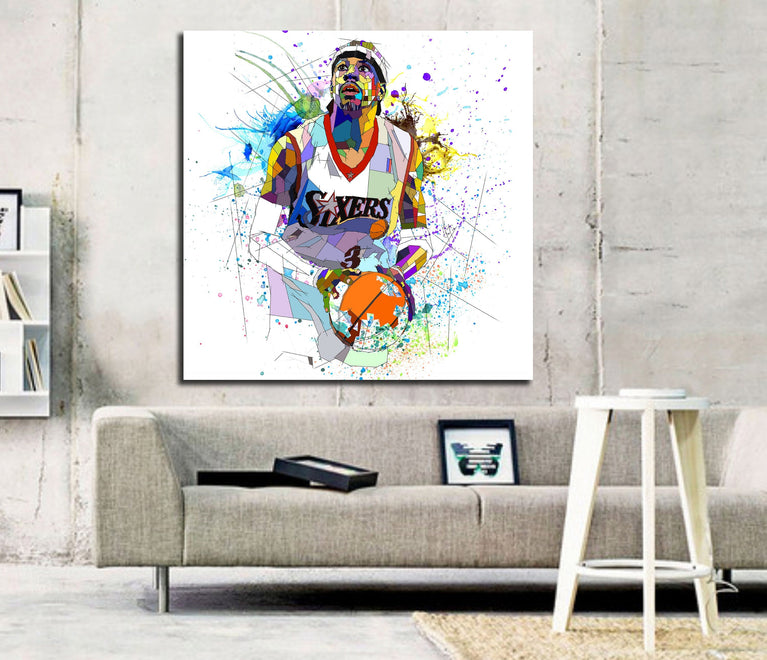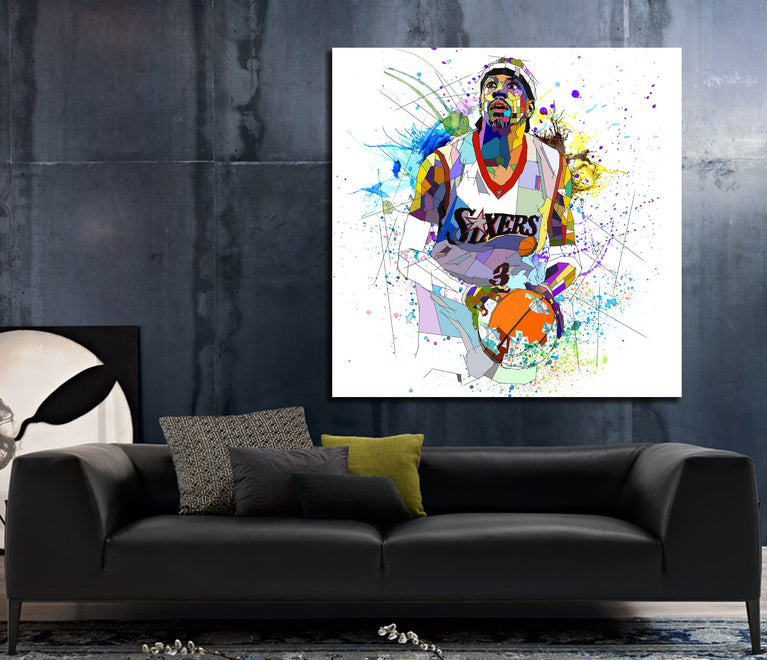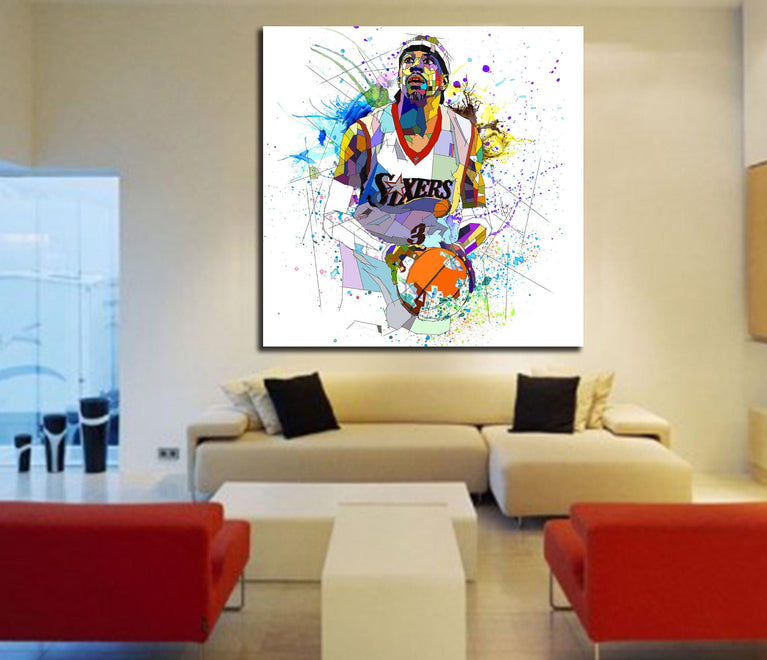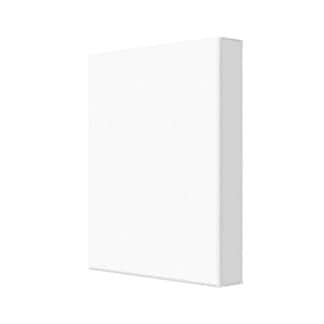 This American basketball player was famous for his explosive movements on the court. Controversy outside the court made him more renowned. He is an athlete with hip-hop movements which was a unique technique and was first introduced to him. In this wall art from Katia Skye, this mood has been captured with the latest graphic strokes with vibrant colors.
This contemporary and modern artwork of Allen Iverson wall art is unique and attention-grabbing. It will brighten up any space, be it your bedroom, sports room, living room, closet, workout area, or office space. 
Art Variant: NBA-AI02
Details regarding our Canvas Art of Allen Iverson
This high-quality

canvas Wall art

is in Gallery Style and is available in two depths which are 0 .75' inches and 1.5 inches. The artwork can be ordered from the official website of Katia Skye. Please choose the dimension of this canvas wall art carefully and remember to specify the dimension and also the orientation, that is the direction in which you want the painting to be printed, landscape or portrait, in the 'note to the seller ' section. 

There are 13 different dimensions in which this canvas wall art is available, so choose according to your requirement.

The canvas is stretched onto wooden frames with neatly wrapped edges and corners so no framing is required. The construction is sturdy and all these are the added advantages of buying this piece of art from Katia Skye.

The price for this wall art starts at $40, it may differ based on the customizations you opt for. The rate depends on the dimension as well as the depth of the artwork. 

Shipping charges are extra and calculated at checkout. We are paired with reputable shipping companies that deliver your favorite artwork to your doorstep. 
Trust Katia Skye to Deliver the Best
We prioritize our customers and offer nothing but the best. Our top-notch products will win your heart. 

Our products also make amazing gifts for a variety of occasions like anniversaries, birthdays, graduation parties, and other events. 

You can also check out our other pieces of work on our official website and feel free to contact us. Details are also available on the website. 
Canvas Wall Art Featuring Allen Iverson:
This contemporary art of Katia Skye featuring Allen Iverson is a marvelous basketball wall art on canvas. He is an iconic character in the world of basketball and was a sensation among teenagers.
Allen Ezail Iverson was an American basketball player. His nicknames were "the Answer" and "AI". He used to play in the NBA in both the 'shooting guard' and 'point guard' positions. As a professional basketball player, Iverson has become famous among youngsters all across the world. His talent and marvelous technique are admired by many.