One of the most coveted items for investors, collectors, and enthusiasts alike has always been art. Beautiful and priceless works of art exist in the art world, some of which cost enormous values. The most expensive paintings in the world are proof of the value of excellent art that endures across time.
These paintings continue to enthrall and inspire people all across the world despite their high costs. They serve as both a reminder of the value of protecting and valuing our cultural heritage and a testament to the enduring power of great art. Also in the end of this article we have also discussed that how you can get these Wall art for your homes and offices without spending millions of dollars.
In this article we'll be looking at the top ten most expensive paintings ever sold.
Salvator Mundi by Leonardo da Vinci - $450.3 million (November 2017)
Leonardo da Vinci, a well-known Renaissance painter, created a painting titled Salvator Mundi, which means "Savior of the World." The image of Jesus Christ in the picture shows him lifting his right hand in a blessing gesture while holding a crystal ball in his left hand. Until being discovered and restored in 2005, the painting had been lost for decades. The painting was the most expensive artwork ever sold when it was auctioned off in 2017 for a remarkable cost of $450.3 million.
Interchange by Willem de Kooning - $300 million (September 2015)
Willem de Kooning, a Dutch-American painter, created a series of abstract expressionist works titled Interchange. The series is renowned for its strong color choices and broad, emotive brushstrokes. The second most expensive painting ever sold was one from the series that was sold in 2015 for $300 million.
The Card Players by Paul Cézanne - $250 million (April 2011)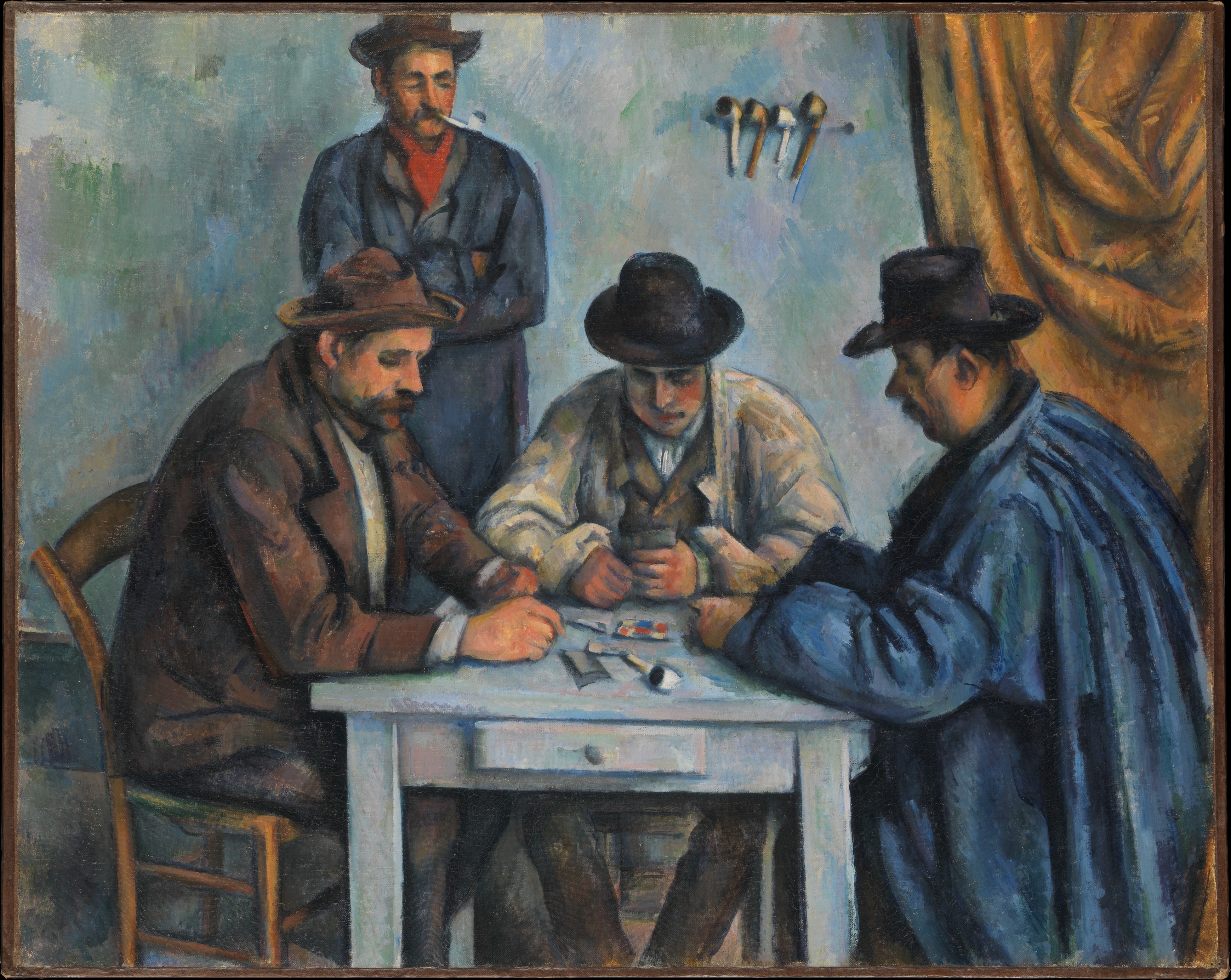 Paul Cézanne, a French painter, created a collection of five oil paintings titled The Card Players. Some of Cézanne's most well-known paintings are these ones, which show peasants playing cards. The third most expensive painting ever sold, a piece from the series was sold in 2011 for $250 million. 
Nafea Faa Ipoipo? (When Will You Marry?) by Paul Gauguin - $210 million (February 2015)
Paul Gauguin, a French Post-Impressionist painter, created Nafea Faa Ipoipo. The picture, famed for its vibrant colors and exotic subject matter, shows two Tahitian women relaxing on a beach. The painting was the fourth most expensive artwork ever sold in 2015 after being sold for $210 million.
Number 17A by Jackson Pollock - $200 million (September 2015)
Jackson Pollock, a native of the United States, painted Number 17A in the abstract expressionist style. One of Pollock's best pieces, the painting is renowned for its use of dripping and splashing techniques. The picture was the sixth most expensive painting ever sold in 2015 after being sold for $200 million.
No. 6 (Violet, Green and Red) by Mark Rothko - $186 million (August 2014)
Russian-American painter Mark Rothko created a work titled No. 6 (Violet, Green, and Red). One of Rothko's most significant works, the painting is renowned for its enormous color blocks. The painting was the sixth most expensive painting ever sold in 2014 when it sold for $186 million.
Les Femmes d'Alger (Version "O") by Pablo Picasso - $179.4 million (May 2015)
Pablo Picasso, a Spanish artist, created a picture titled Les Femmes d'Alger (Version "O"). The piece is one of 15 that were created as a response to Ladies of Algiers in their Apartment by Eugène Delacroix. The artwork was sold in 2015 for $179.4 million, making it the ninth most expensive painting ever.
Amedeo Modigliani's Nu couché is worth $170.4 million (November 2015)
Amedeo Modigliani, an Italian painter, created a series of reclining nudes known as Nu couché in the early 20th century. The sensuality and lengthy forms of the paintings are well known. The eighth most expensive painting ever sold was one of the works from the series that sold for $170.4 million in 2015.
Edvard Munch's The Scream is worth $119.9 million (May 2012)
Edvard Munch, a Norwegian painter, produced a series of paintings titled The Scream in the late 19th and early 20th centuries. The most well-known piece from the collection shows a screaming figure against a blood-red sky. The painting was the ninth most expensive painting ever sold in 2012 when it sold for $119.9 million.
Gustav Klimt's Portrait of Adele Bloch-Bauer I is valued at $135 million (June 2006)
Gustav Klimt, an Austrian painter, produced Portrait of Adele Bloch-Bauer I in 1907. Adele Bloch-Bauer, a well-known member of society and a supporter of the arts, is shown in the artwork. The painting was the tenth most expensive artwork ever sold when it sold in 2006 for $135 million.
There are a number of reasons why these artworks are so expensive. First of all, a large number of these paintings were produced by some of the most well-known artists in history, whose creations are widely prized for their significance and influence. Also, the artistic brilliance and rarity of some of these paintings increase their worth.
The desire for art among wealthy collectors and investors also contributes to the high pricing of these artworks. Owning a priceless work of art is frequently seen as a show of wealth and elegance. Art has long been considered a status symbol. As a result, a lot of people are willing to spend astronomical sums of money to get these artworks.
How to Get These Art Paintings to Your Homes in Only Few Dollars?
While most individuals may not be able to afford an original painting by one of these well-known artists, canvas prints and acrylic prints are still viable options for appreciating their work. Without having to pay millions of dollars, these replicas let an art lover bring the elegance and beauty of magnificent pieces of art into their residences and places of business.
Wall painting with pictures of enduring cultural icons and experiences has been increasingly popular in recent years. For instance, a lot of individuals are drawn to canvas prints of their favorite sportsmen, like Steph Curry poster or Jordan sneaker wall art. For anyone wishing to push himself to new limits, these pictures of these sports heroes might serve as an inspiration. They perfectly represent their strength and grace.
The Joker wall art, which shows the recognizable comic book villain in all his twisted splendor, has also seen an increase in popularity. These pictures may make a strong statement in any room and give an otherwise traditional setting a hint of rebelliousness and edginess.
There are numerous canvas art prints of historical personalities and memorable situations that are accessible for folks who enjoy history. These prints can serve as a reminder of our shared human past and the achievements of those who came before us. They range from representations of ancient civilizations to portraits of notable leaders and innovators.
There are canvas or acrylic prints available that can satisfy your demands, whether you're searching for a bold statement piece or a more understated addition to your decor. You can add a touch of sophistication and elegance to your house or business and connect with the rich history and culture that have influenced our planet by selecting a print of a well-known painting or cultural icon.