Are Canvas Prints Legit in 2023? A Comprehensive Guide to Quality Canvas Printing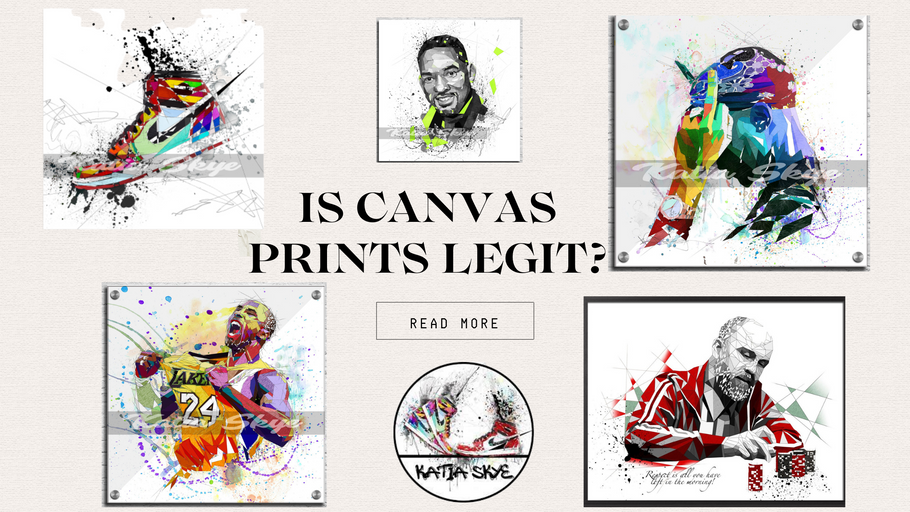 Canvas prints have become a popular option for people wishing to turn their favorite images into gorgeous pieces of art in the age of digital photography and internet purchasing. However, with the growth of canvas printing businesses on the internet, the topic of "Are canvas prints legit?" frequently arises. We shall investigate the legitimacy of canvas printing as a recognized and high-quality art medium in this complete guide. 
Understanding the Printing Process on Canvas
It's critical to grasp the canvas printing process before digging into the authenticity of canvas prints. Canvas printing is the process of putting a digital picture onto a canvas cloth or paper, usually with inkjet printing technology. As a consequence, the artwork mimics a classic painting, with the picture wrapped around the edges of a wooden frame for a seamless and frameless appearance.
Canvas printing has various benefits, including:
Durability: High-quality canvas materials and inks are made to last for decades without fading or deterioration, guaranteeing that your canvas print wall art remains vivid and stunning.
Customization: To obtain the desired creative impression, canvas prints may be adjusted in terms of size, arrangement, and even picture editing.
Aesthetic Appeal: Canvas prints' texture and look give a unique and visually attractive method to display your images and artwork.
Personalization: Canvas prints allow you to bring your memories and artistic efforts to life, making them an excellent choice for interior design.
Canvas Printing Credibility
Canvas printing's legitimacy as a dependable and credible art form may be assessed from a variety of angles:
Material Quality:
The quality of the materials used is an important component in determining the authenticity of canvas prints. To guarantee that the prints last, reputable canvas printing businesses employ archival-grade canvas and high-quality, fade-resistant inks. It is critical to review the printing service's standards to guarantee they are utilizing industry-standard materials.
Craftsmanship and expertise:
The degree of knowledge and workmanship that a canvas printing business brings to the process frequently reflects its authenticity. Professionals that understand color accuracy, resolution, and the intricacies of digital picture reproduction work for legitimate suppliers. They take considerable effort to ensure that the finished product meets or exceeds the expectations of the consumer.
Customer Testimonials and Reviews:
Checking client reviews and feedback is one approach to determine the validity of a canvas printing business. A reliable company should have a long list of delighted clients who can attest to the high quality of their prints and services. However, while reading reviews, use caution and examine the general consensus.
Safe Payment Methods:
Legitimate canvas printing providers provide safe payment alternatives, ensuring the security of your financial information. Avoid services that appear untrustworthy or require unusual payment methods, and instead look for companies that take major credit cards or renowned online payment systems.
Refund and Return Policies:
A reputable canvas printing provider will usually have clear and reasonable return and refund policies. This demonstrates that the firm believes in the quality of its products and is eager to handle any difficulties that may emerge, such as shipping damage or print faults.
Selecting a Reputable Canvas Printing Service
Now that we've looked at the authenticity of canvas printing, let's talk about how to choose a reputable canvas printing service:
Investigation and comparison:
Begin by performing extensive research. Compare several canvas printing services, including their offerings, costs, and user feedback. Look for companies who have a proven track record of producing high-quality canvas prints.
Examine for Certifications:
Some canvas printing companies may have certifications or affiliations that attest to the high quality of their goods and materials. They may, for example, employ archival canvas or have certificates relating to their printing method.
Popular Art: 
Canvas prints appeal to many preferences and interests due to their vast range of popular categories. Canvas prints of basketball legends like Kobe Bryant and Allen Iverson epitomize competition and passion, perfect for sports enthusiasts. Fans adore decorating their walls with celebrity faces. Wildlife and pet enthusiasts can choose from several wildlife and pet-themed prints highlighting animal beauty. 
Request Print Samples:
If you're not convinced about a certain canvas printing service, request sample prints. Legitimate companies frequently give this option, which allows you to evaluate the photo print quality, color accuracy, and general workmanship before committing to a bigger purchase. Also, custom canvas prints allow you to express your particular hobbies, such as an homage to your relationship, an inspirational figure like Biggie Smalls, etc, or your ideal person, making your space completely yours. Canvas prints let you decorate with your interests. 
Examine the Terms and Policies:
Examine the canvas printing service's terms and regulations thoroughly. Consider their return and refund policies, shipment schedules, and any assurances they provide. This will prepare you for any problems that may emerge.
Contact Customer Service:
If you have any queries or problems, contact the service's customer care. This contact might provide information about their attentiveness and readiness to help you.
The Bottom Line: Canvas Prints Can Be Legitimate
Finally, when you pick a dependable and trustworthy canvas printing business, canvas prints are a real and respected art medium. The key to verifying the validity of your canvas prints is the service you choose. You can confidently turn your favorite images into magnificent canvas prints that will survive the test of time by completing comprehensive research, checking for certifications, and studying customer comments.
Remember that canvas prints are a lovely way to display your memories and creative works, and when you pick a reputable source, you may reap the advantages of this one-of-a-kind and timeless art form for years to come. Thus, sure, canvas prints may be legitimate if you make sensible choices and use only reliable sources like "
KATIASKYE
".