Top 9 Commonly Asked Questions (FAQs) About Canvas Print Wall Art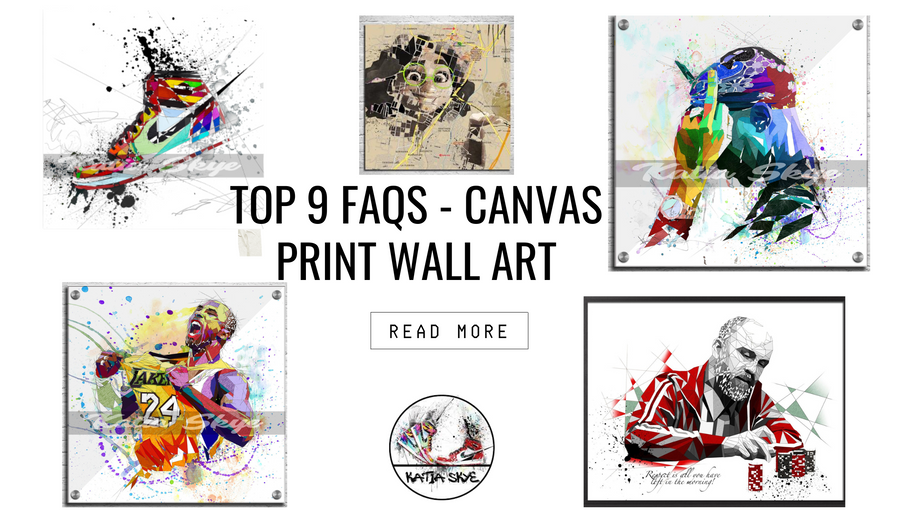 Uncover all the answers you need about canvas print wall art with our Top 9 Frequently Asked Questions (FAQs). We've got you covered for a flawless canvas art experience, from selecting the perfect size to comprehending the printing process.
Where to Order a Canvas Print?
When deciding where to get a canvas print, you have various alternatives. Many online printing shops provide this option, which allows you to submit your preferred image as well as select the canvas size and style.
Printful, Katiakye, CanvasChamp, and CanvasPop are all popular choices. Local print shops and art stores may also provide canvas printing services, giving you the opportunity to discuss your preferences in person.
Are Canvas Prints Tacky?
Canvas prints are not inherently tacky; their attractiveness is determined by the quality and design. A well-executed canvas print of high-resolution artwork or a personal image may be a fashionable and significant addition to your home's decor. It adds creative flare as well as sentimental significance to a location.
Canvas prints, on the other hand, might seem flashy or tacky when done incorrectly with low-quality photos or excessive decorations. The idea is to select photos and patterns that complement your personal style and environment. Finally, it comes down to personal preference, and when chosen carefully, canvas prints may be a classy and artistic choice for home design.
Why Are Canvas Prints So Expensive?
Canvas prints might appear to be pricey owing to a variety of variables. To begin, archival-grade inks and high-quality canvas materials are utilized to ensure longevity and color vibrancy. Furthermore, the printing process is rigorous and necessitates specialist equipment, which adds to the expense. Prices are also affected by customization options like as size and framing. Furthermore, the knowledge and skill of printing specialists adds value.
Finally, limited editions and special artworks can command high prices. While canvas prints are more expensive than paper prints, they provide longevity and a timeless, exquisite style that warrants the price, making them a worthy purchase for art connoisseurs and home décor enthusiasts.
Will Canvas Prints Fade?
Canvas prints, like any other type of print, can fade over time, especially when exposed to strong sunlight and severe climatic conditions. Top-quality canvas print companies, such as Katiaskye, have taken substantial measures to address this issue. They frequently apply a protective varnish as a final coat to the canvas, extending the life of the print. This varnish serves as a barrier, protecting the colors from UV radiation and other fading influences.
So, if you buy canvas prints from trusted merchants who value product quality and longevity, you may enjoy your artwork for many years without having to worry about substantial fading.
Do Canvas Prints Look Like Paintings?
Yes, canvas prints may seem like paintings, especially when using high-quality materials and innovative printing procedures. Canvas' texture and look provide depth and dimension to the printed picture, lending it a painterly quality.
Furthermore, the option to wrap the picture around the sides of the canvas frame produces a seamless and frameless appearance, similar to that of a conventional painting. Many individuals use canvas prints to get the look of a painting while enjoying the convenience of digital reproduction. To achieve the greatest results in generating a painting-like look, use a reliable printing business and high-resolution photos.
Are Canvas Prints Waterproof?
Canvas prints are not waterproof by nature, but they may be made water-resistant with the use of specific varnishes. The canvas print may be protected against moisture and mild splashes by adding a double layer of weatherproof varnish, making it suited for regions prone to humidity or occasional contact with water.
This varnish functions as a protective layer, keeping water from penetrating and damaging the canvas fibers. It is critical to use high-quality, UV-resistant varnishes to preserve the print's lifespan and brilliant colors. It should be noted, however, that canvas prints should not be immersed in water or subjected to continual high moisture.
Is there any difference between Art Print and Canvas Print?
The main distinction between an art print and a canvas print is one of material and presentation. An art print is often a paper or comparable material replica of an artwork, often made using high-quality printing processes. It's a flexible frame option that may be shown behind glass.
Canvas prints, on the other hand, entail transferring a picture onto canvas material, resulting in a more textured and three-dimensional look. Canvas prints are frequently stretched over a wooden frame to create a frameless appearance, and they are well-suited for modern and gallery-style presentations. Both choices offer distinct traits that cater to a variety of interests and styles.


What size are canvas prints?
Canvas prints are available in a number of sizes to accommodate a wide range of tastes and room measurements. Small 8x8 and 12x8 canvas prints are popular for a subtle accent, medium sizes like 24x24 and 18x24 for a stunning centerpiece, and bigger alternatives like 56x56 and 36x56 for a dramatic statement piece.
The option you choose is determined on the size of your wall, the visual effect you want, and the resolution of the image. Many vendors also provide custom sizes, allowing you to adapt the measurements to your precise requirements. Finally, the optimal size is determined by your own preferences and the aesthetics of your room.
Is there framed canvas print wall art available?
Yes, you may buy framed canvas print wall art. These items will provide a refined touch to your décor. The canvas is attractively stretched and fixed within a frame, providing depth and a professional finish to your selected image. There are several alternatives to suit your style, whether you choose classic wood frames for a timeless design or sleek metal frames for a modern touch. Framed canvas prints offer a full, ready-to-hang solution for all of your art requirements.